Cheesy Baked Lobster Dip
Print
This ooey-gooey, decadent baked lobster dip is simply irresistible!
Serves: 12
Prep Time

20 min

Cook Time

30 min

Total Time

50 min
Ingredients
8 oz (250 g) brick-style plain cream cheese, softened
3 cloves garlic, minced
3/4 cup (175 mL) sour cream
1/2 cup (125 mL) mayonnaise
1 tbsp (15 mL) freshly grated lemon zest
2 tbsp (30 mL) freshly squeezed lemon juice
2 tbsp (30 mL) finely chopped fresh chives
2 tbsp (30 mL) hot sauce
1 tbsp (15 mL) Dijon mustard
1 tbsp (15 mL) finely chopped fresh thyme
1 tbsp (15 mL) Worcestershire sauce
2 tsp (10 mL) paprika
1 tsp (5 mL) salt
1/2 tsp (2 mL) black pepper
1 1/2 cups (375 mL) mozzarella cheese
8 oz (250 g) frozen cooked Canadian lobster meat or pieces, thawed and finely chopped
1 cup (250 mL) shredded sharp (old) Cheddar cheese
1/2 baguette, sliced
Vegetable crudité, for serving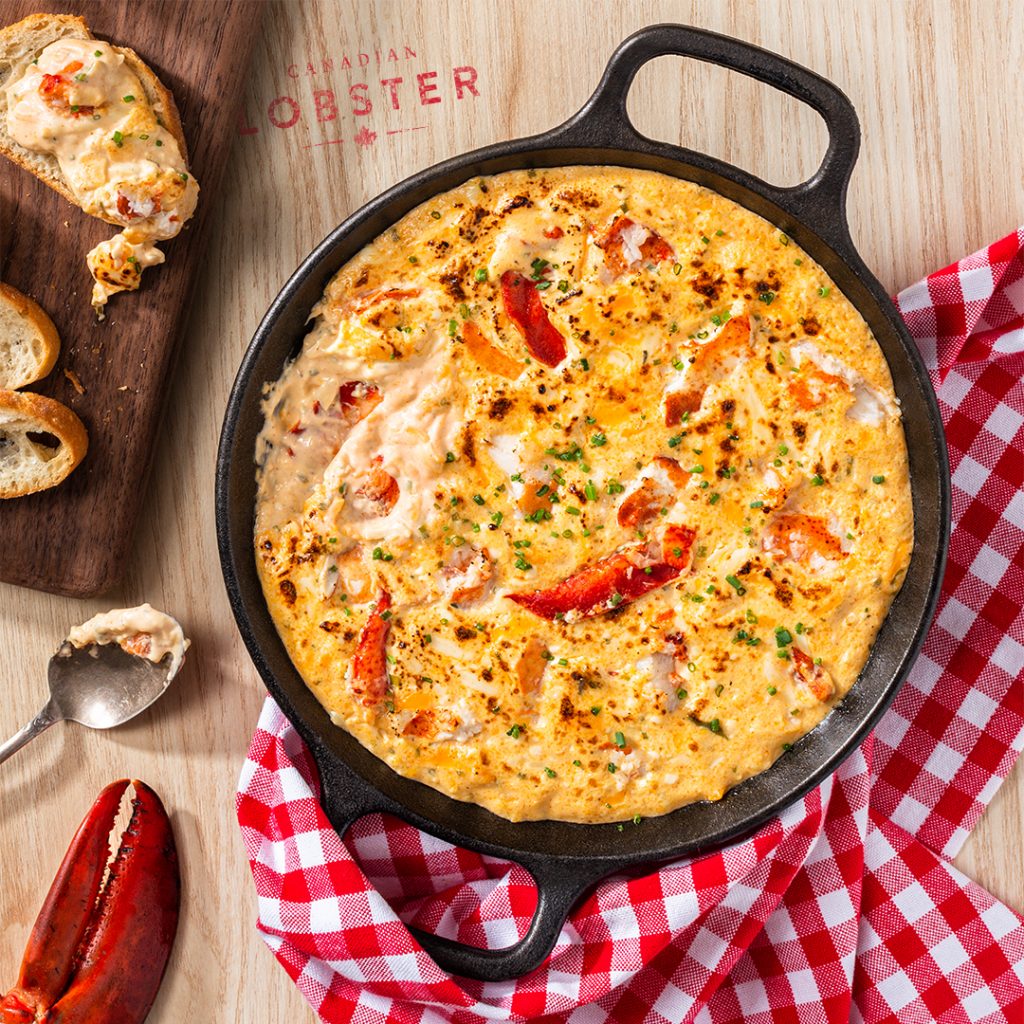 Method
1
Preheat oven to 400°F (200°C). 

 

In medium bowl, using handheld electric mixer, beat together cream cheese, garlic, sour cream, mayonnaise, lemon zest, lemon juice, chives, hot sauce, mustard, thyme, Worcestershire sauce, paprika, salt and pepper until smooth and blended. Stir in mozzarella, lobster and Cheddar. Transfer mixture to 8-inch square baking dish; flatten top. 

 

Bake for 15 to 20 minutes or until heated through. Increase oven to broil. Broil on HIGH for 3 to 5 minutes or until golden and bubbling. Reduce oven to 350°F (180°C).

 

On baking sheet, arrange baguette slices. 

 

Bake for 8 to 10 minutes or until golden brown and toasted.

 

Serve dip warm with toasted baguette slices and crudité.

 
Chef's Note: Alternatively, serve dip with an assortment of crackers, flatbreads or chips.